CESA Working Paper no. 194/2023 studies the quality of service and customer satisfaction of Banco de Poupança e Crédito in Luanda (Angola)
CEsA published its seventh Working Paper 2023: "A qualidade do serviço e a satisfação do cliente : estudo dos clientes do Banco de Poupança e Crédito – Luanda (Angola)" ("Quality of service and client satisfaction: study of the clients of Banco de Poupança e Crédito – Luanda, Angola), in Portuguese, authored by Eduardo Moraes Sarmento, CEsA researcher and professor in the Master's in International Development and Cooperation at the Lisbon School of Economics and Management (ISEG).
Click here to access the Working Paper no. 194/2023:
https://www.repository.utl.pt/handle/10400.5/27742
Abstract: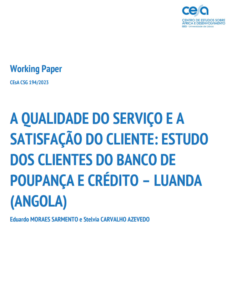 Nowadays, a correct and profitable way of managing the issue of service quality is to listen to customers, both satisfied and dissatisfied, to improve the information obtained, improve experiences with them and thus achieve greater levels of loyalty and, naturally, results. In this context, this study sought to assess the degree of customer satisfaction regarding the provision of the quality of services offered by Banco de Poupança e Crédito, located in Luanda (Angola) in order to identify the level of customer satisfaction according to the variables demographic and socioeconomic factors inherent to the SERVQUAL model and determine the correct methods and techniques for satisfaction, taking into account the elements of quality, in order to make the institution profitable. During this study, a structured interview was carried out for the Marketing and Communication Department and a questionnaire of 15 questions was applied, resulting in only 80 valid questionnaires out of 150. The same were applied during working hours to assess the quality of the service provided by the bank. From a modern company, as with the Bank, it is expected that its main objective is to provide customer satisfaction, indiscriminately needing all the company's employees and for this it is necessary that they are satisfied to adopt attitudes consistent with this objective. However, managing these factors well to achieve positive results is an essential condition for the company to overcome the challenges.
Get to know the previous editions, published in 2023:
Working Paper 188/2023: A identidade nacional na Guiné-Bissau: um ensaio exploratório inspirado na metodologia de J.Cheek, S.Briggs, S.Smith e L.Tropp
Working Paper 189/2023: Fragilities and shocks effects on households and communities in West Africa
Working Paper 190/2023: Study of the value chain of the tourism sector in Angola as an alternative economic, social, and environmental development strategy under the Prodesi programme
Working Paper 191/2023: Programas de transferência condicionada de rendimento e a viragem à esquerda na América Latina
Working Paper 192/2023: Tourism Master Plan for the Island of Santiago, Cape Verde: 2020-2030 – Part 1
Working Paper 193/2023: Tourism Master Plan for the Island of Santiago, Cape Verde: 2020-2030 – Part 2
Author: CEsA Communications (comunicacao@cesa.iseg.ulisboa.pt)
Images: CEsA/Reproduction