Eduardo Moraes Sarmento wins the Hospitality Education Awards 2023 in the Best Higher Education Lecturer in Tourism category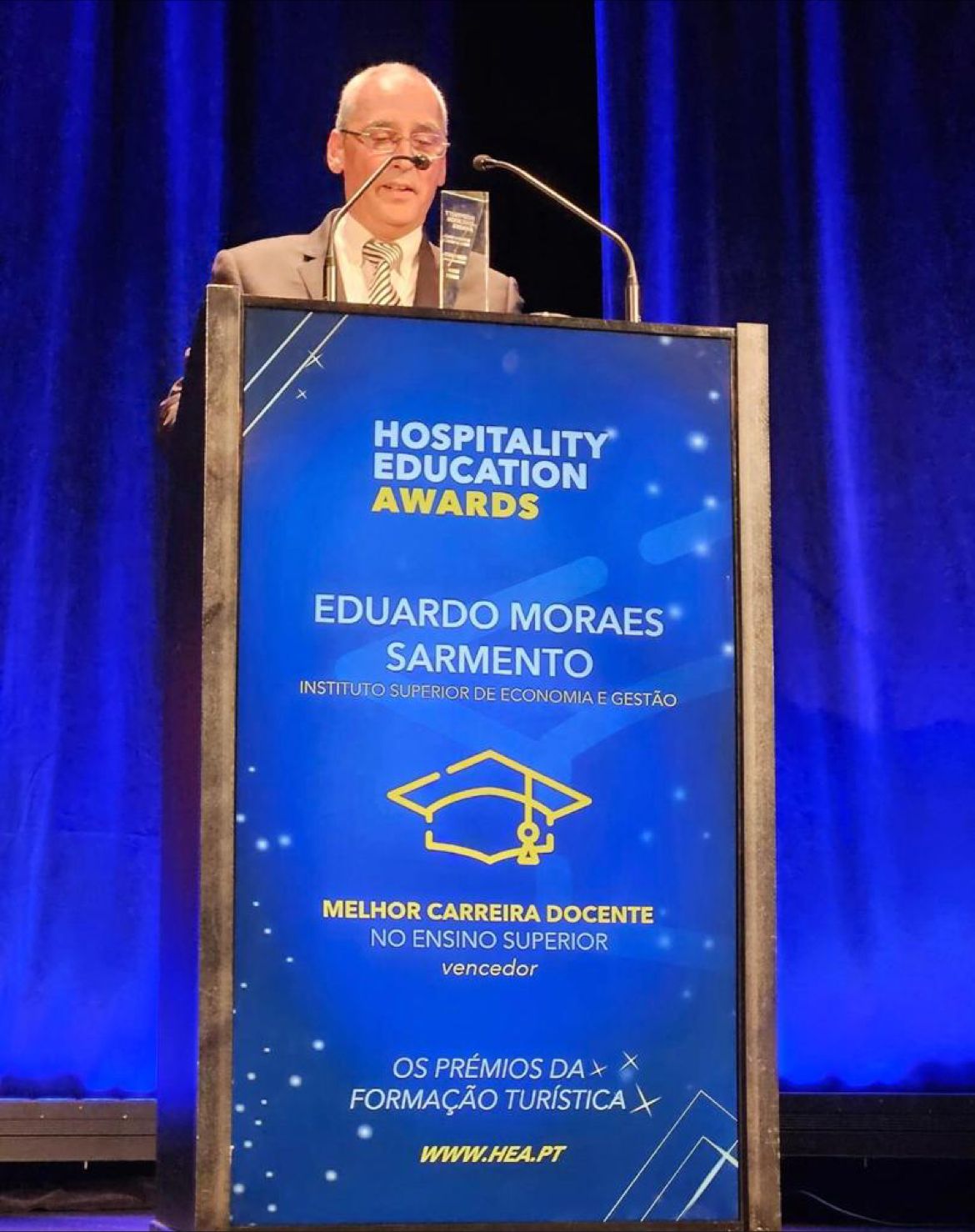 CEsA (CSG/ISEG/ULisboa) researcher and director, and lecturer at the Lisbon School of Economics and Management (ISEG/ULisboa), Professor Doctor Eduardo Moraes Sarmento, was distinguished with the Hospitality Education Awards 2023, in the Best Higher Education Lecturer in Tourism category. Congratulations on this achievement!
"It is an honor to be here with you on this special day, especially because of my life journey. Teaching is a passion. I left business for teaching, and the passion has to be followed. This is a permanent exchange: we teach, but we are constantly learning. It's something beautiful and, honestly, I feel very humble to be here today", said Sarmento after receiving the award in a ceremony that took place on September 19, 2023, at the Museu do Oriente, in Lisbon.
About the prize
The Hospitality Education Awards are dedicated to distinguishing tourism education in Portugal and recognizing and publicizing projects and professionals that have a positive impact on the sector. The category in question "recognizes the academic and professional career of a higher education lecturer in tourism and hospitality".
The award is an initiative of the Associação Fórum Turismo in partnership with Turismo de Portugal, I.P, the National Association of Professional Schools (ANESPO), the Institute of Employment and Professional Training (IEFP) and the Network of Public Higher Education Institutions with Courses in the area of Tourism (RIPTUR).
Projects and professionals were distinguished in seven categories, as follows:
Best Educational Project: Events Team (Winner)
Best Innovation Project: MAC – Museu de Alga Comestível (Winner)
Best Professional Education Lecturer: Eduardo Lomba Vicente (Winner)
Best Higher Education Lecturer: Eduardo Moraes Sarmento (Winner)
Best Stakeholder: MINOR Hotels (Winner)
Best Young Career: Rodrigo Madeira (Winner)
Forum Tourism Award: Acácio Ferreira Duarte (Winner)
More information on the award website: https://hea.pt/
About Eduardo Moraes Sarmento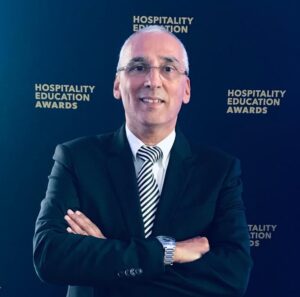 He is a lecturer at the Instituto Superior de Economia e Gestão (ISEG) and an integrated researcher at CEsA/CSG/ISEG/ULisboa. He took his Aggregation exams at the University of Aveiro in Management with specialisation in Tourism. He has a PhD in Economics with specialization in Tourism from ISEG/ULisboa. He has published several books: from Statistics to Scientific Methodology and also on issues related to the Sustainable Development process of small island economies. He has participated assiduously in several scientific events (seminars and conferences) abroad and in Portugal mainly related to Economics, Marketing and Tourism. She has scientific competencies especially in the area of Economics and Tourism. He teaches several curricular units in the 1st, 2nd and 3rd cycle. He has coordinated numerous MSc and PhD dissertations in public and private university institutions. He has been invited by the main university institutions to be the author of dissertations and theses. He has participated in international research projects by CEsA/CSG/ISEG/ULisboa and other Institutions in Portugal, Russia, Ukraine, Greece, Czech Republic and Cape Verde. In scientific terms he has dozens of international and national articles published abroad in renowned scientific journals especially in the areas of tourism marketing and sustainable development and the effects of tourism on the economy as a development tool. At the same time he is an international consultant having participated in several projects for the Government of Cape Verde and in the study of the location of the new Lisbon airport among many others.
Further details can be consulted in his research profile on our website: https://cesa.rc.iseg.ulisboa.pt/investigacao/investigadores/esarmento/
Get to know Eduardo Moraes Sarmento scientific production: https://www.repository.utl.pt/browse?type=author&value=Sarmento%2C+Eduardo+Moraes
Read more:
CEsA researcher and ISEG lecturer, Eduardo Sarmento is a finalist for the Hospitality Education Awards 2023 in the Best Lecturer Career in Higher Education category
Eduardo Sarmento is elected director of CEsA; Jessica Falconi and Alexandre Abreu, sub-directors
Author: CEsA Communication (comunicacao@cesa.iseg.ulisboa.pt)
Image: CEsA/Reproduction