"Cinema and Decolonisation: Mozambique in focus" cycle | June 17th | Documentary We Dreamed of a Country ("Sonhámos um país")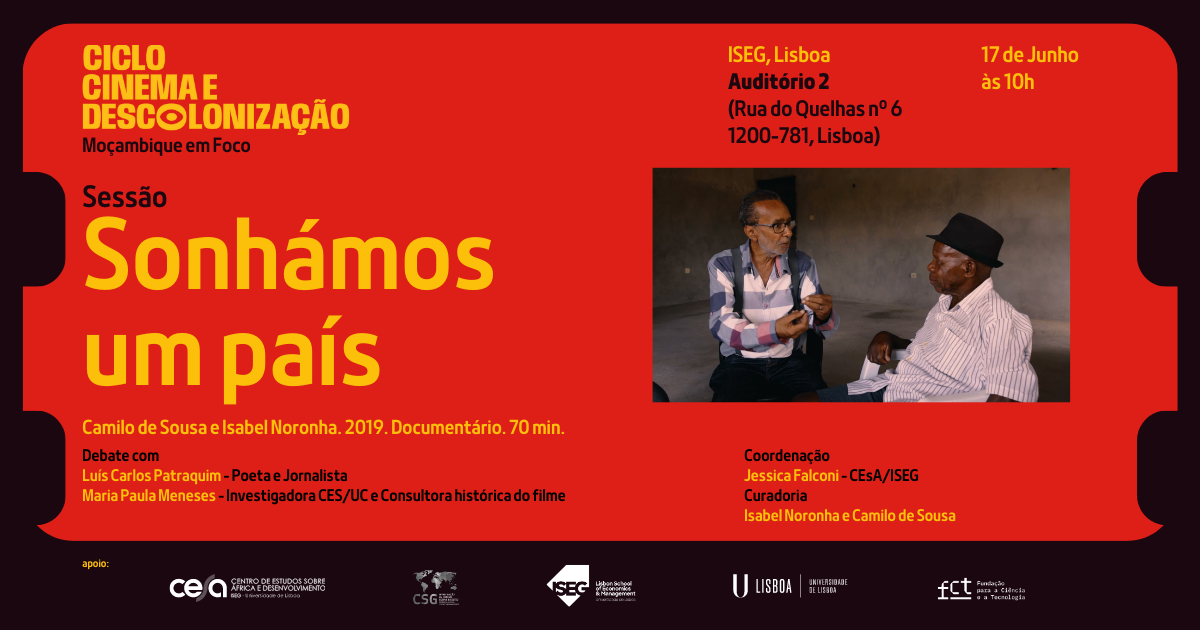 The Centre for African and Development Studies (CEsA/CSG/ISEG/ULisboa), within the scope of the "Cinema and Decolonisation: Mozambique in focus" cycle, is pleased to announce the screening of We Dreamed of a Country ("Sonhámos um país" in Portuguese) (Camilo de Sousa and Isabel Noronha, 2019, Documentary, 70 min, Portuguese). The session is free admission and will take place on June 17th, 10 am, at ISEG – Lisbon School of Economics and Management (Auditorium 2, Rua do Quelhas n. 6, 1200-781, Lisbon, Portugal – Google Maps HERE).
The debate will follow with poet and journalist Luís Carlos Patraquim, and CES/UC researcher and historical advisor of the film, Maria Paula Meneses.
PLEASE REGISTER HERE: https://www.eventbrite.pt/e/bilhetes-ciclo-cinema-e-descolonizacao-mocambique-em-foco-sonhamos-um-pais-642165623667
The film will be played in Portuguese. We recommend a pre-registration, but the capacity of the auditorium will be filled in order of arrival.
Synopsis for "We Dreamed of a Country"
In the early 1970s, Camilo de Sousa left Lourenço Marques, Mozambique, toured Europe and joined the Frelimo guerrilla movement. First in the Nachingwea training base and then in the National Liberation Struggle. He was twenty years old at the time. Today, living in Portugal, he returns to Mozambique to meet two comrades-in-arms, whom he met in the guerrillas and with whom he later shared the leadership of the party in Cabo Delgado, until he went back to what is now Maputo and joined the new Instituto de Cinema, becoming a director. With Aleixo Caindi and Julião Papalo he recalls ancient times, when the joy of liberation gave way to hard times when the search for the 'new man' came to destroy the dreams and illusions of a country.
Click on the imagem below to access the event sheet: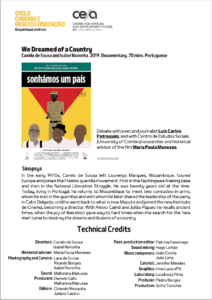 About the "Ciclo de Cinema e Descolonização: Moçambique em foco"
The project urges to understand decolonization as a process still in progress, which must be accepted and integrated into the social, political, cultural and personal dynamics. The project aims to create an open and dynamic space for sharing, where memories, narratives, dialogues and reflections can emerge. It is coordinated by Jessica Falconi (CEsA/CSG/ISEG/ULisboa) and curated by the Mozambican filmmakers Isabel Noronha and Camilo de Sousa.
The film club will take place from January to July 2023, with screenings once a month, always on Saturdays, where it is intended to debate and reflect on the legacies and memories of decolonization in Mozambique. Each session will have the spoken remarks of producers, directors, etc., as well as moderators and debaters who will facilitate the debate within the audience.
Coordination: Jessica Falconi (CEsA/CSG/ISEG/ULisboa)
Curators: Isabel Noronha and Camilo de Sousa
Scientific consultancy: Joana Pereira Leite (CEsA/CSG/ISEG/ULisboa) and Ana Mafalda Leite (CEsA/CSG/ISEG/ULisboa)
Support: CEsA/CSG/ISEG/ULisboa
Read more:
Check the full program for 2023 of the film club "Cinema e Descolonização: Moçambique em foco"
The "Cinema and Decolonisation: Mozambique in focus" cycle combines cinema, memories and narratives about decolonisation and its milestones in monthly film clubs at ISEG
Author: CEsA Communication (comunicacao@cesa.iseg.ulisboa.pt)
Image: CEsA/Reproduction