CEsA will screen "Sleepwalking Land" in February, with a discussion panel with Mia Couto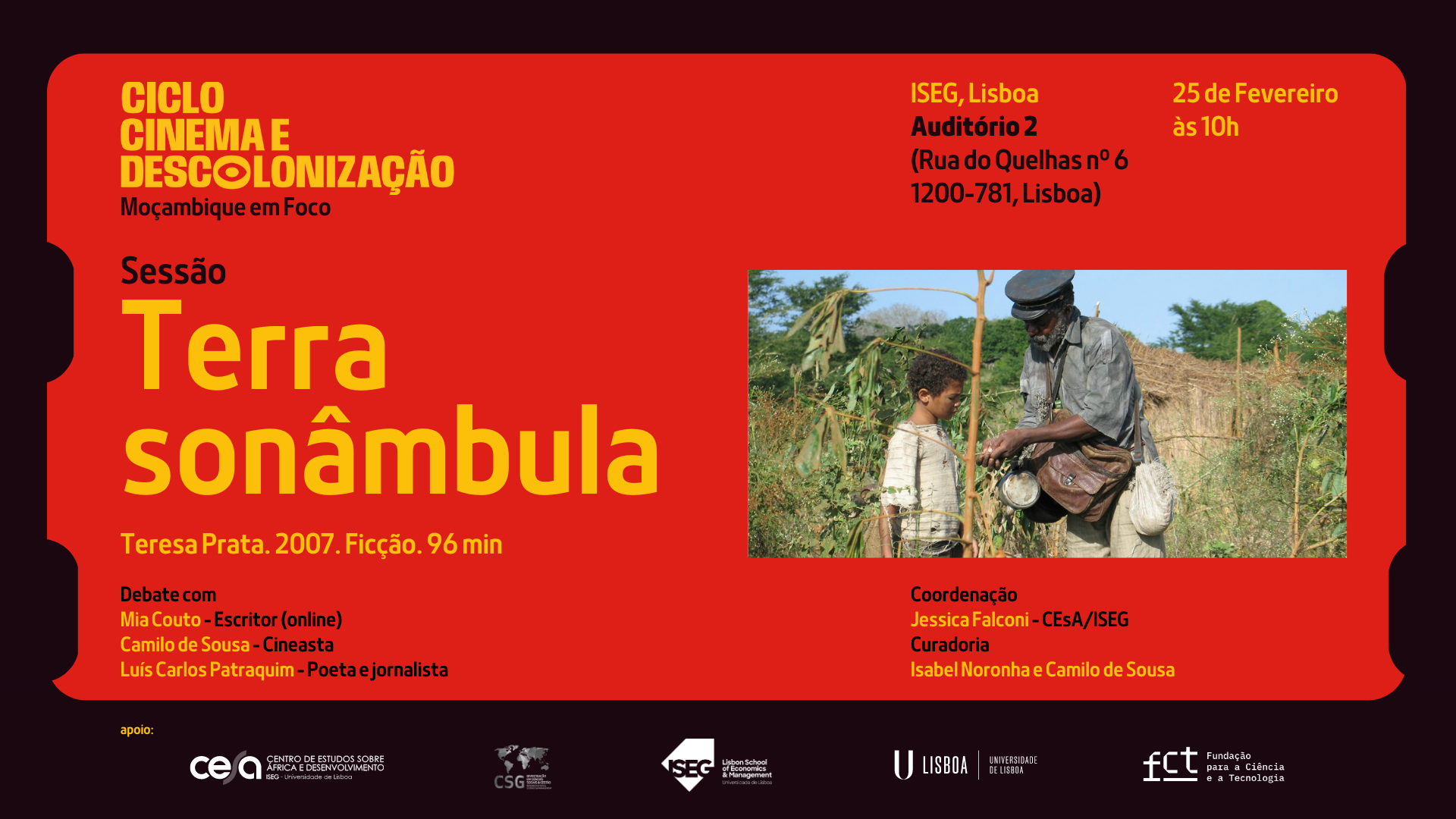 The Centre for African and Development Studies (CEsA/CSG/ISEG/ULisboa) is pleased to announce the screening of the first feature film by Portuguese director Teresa Prata, based on the homonymous novel by Mozambican author Mia Couto, "Sleepwalking Land" ("Terra Sonâmbula" in Portuguese) (Teresa Prata, 2007 , Fiction, 96 min, Portuguese). The session is free admission and will take place on February 25, 10 am, at ISEG – Lisbon School of Economics and Management (Auditorium 2, Rua do Quelhas n. 6, 1200-781, Lisbon, Portugal).
The film will be played in Portuguese. We recommend a pre-registration (click here to register), but the capacity of the auditorium will be filled in order of arrival.
The debate will follow with Mia Couto (online), and the Mozambican filmmaker Camilo de Sousa, as well as with the poet and journalist Luís Carlos Patraquim.
Synopsis for "Sleepwalking Land"
A fiction that tells the story of Muidinga, a boy who finds a diary next to a dead body and starts to read it. It is the story of Farida, who lives on an old ship anchored on the high seas and is waiting for her son. Muidinga is convinced that it is that boy and decides to go in search of her. He travels with Tuahir, a cantankerous storyteller who develops a growing affection for Muidinga, even fearing that the boy will find his family. The film slowly leaves behind the harsh reality of war and enters the fantastic. Dreams come true and the sea invades the dusty road.
Click on the imagem below to access the film sheet: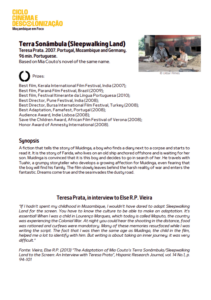 About the Cycle "Cinema e Descolonização: Moçambique em foco"
The project urges to understand decolonization as a process still in progress, which must be accepted and integrated into the social, political, cultural and personal dynamics. The project aims to create an open and dynamic space for sharing, where memories, narratives, dialogues and reflections can emerge. It is coordinated by Jessica Falconi (CEsA/CSG/ISEG/ULisboa) and curated by the Mozambican filmmakers Isabel Noronha and Camilo de Sousa.
The film club will take place from January to July 2023, with screenings once a month, always on Saturdays, where it is intended to debate and reflect on the legacies and memories of decolonization in Mozambique. Each session will have the spoken remarks of producers, directors, etc., as well as moderators and debaters who will facilitate the debate within the audience.
Coordination: Jessica Falconi (CEsA/CSG/ISEG/ULisboa)
Curators: Isabel Noronha and Camilo de Sousa
Scientific consultancy: Joana Pereira Leite (CEsA/CSG/ISEG/ULisboa) and Ana Mafalda Leite (CEsA/CSG/ISEG/ULisboa)
Support: CEsA/CSG/ISEG/ULisboa
Check the full program for 2023 of the film club "Cinema e Descolonização: Moçambique em foco"
Author: CEsA Communication (comunicacao@cesa.iseg.ulisboa.pt)
Image: CEsA/Reproduction