Working Paper CEsA 195/2023 studies how violent extremism affects the ethnic identity of people in Mali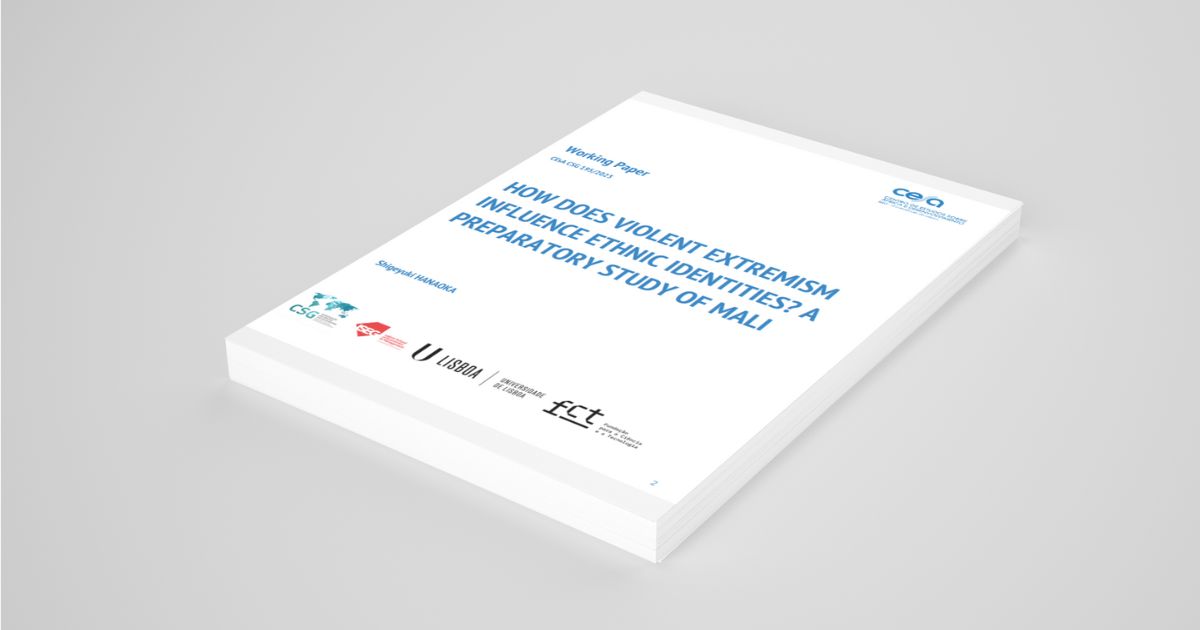 CEsA published its eighth Working Paper in 2023: "How Does Violent Extremism Influence Ethnic Identities? A Preparatory Study Of Mali", in English, authored by Shigeyuki Hanaoka, CEsA Research Fellow.
Click here to access the Working Paper no. 195/2023: https://www.repository.utl.pt/handle/10400.5/29112
Abstract: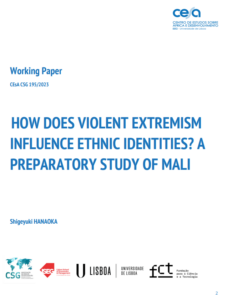 How does violent extremism (VE) impact individuals' ethnic identities? While there is a broad body of research on VE, which has seen significant growth in Africa in recent years, including assessments of its origins, the coalescence of various movements, and military operations against VE, research on its impact on ethnic identity and its associated political behaviours remains limited. This work serves as a preparatory study to examine how people's perceptions, and political behaviours related to ethnic identity have evolved during the period of VE's substantial expansion in Mali in recent years.
Get to know the previous editions, published in 2023:
Working Paper 188/2023: A identidade nacional na Guiné-Bissau: um ensaio exploratório inspirado na metodologia de J.Cheek, S.Briggs, S.Smith e L.Tropp
Working Paper 189/2023: Fragilities and shocks effects on households and communities in West Africa
Working Paper 190/2023: Study of the value chain of the tourism sector in Angola as an alternative economic, social, and environmental development strategy under the Prodesi programme
Working Paper 191/2023: Programas de transferência condicionada de rendimento e a viragem à esquerda na América Latina
Working Paper 192/2023: Tourism Master Plan for the Island of Santiago, Cape Verde: 2020-2030 – Part 1
Working Paper 193/2023: Tourism Master Plan for the Island of Santiago, Cape Verde: 2020-2030 – Part 2
Working Paper 194/2023: A Qualidade do Serviço e a Satisfação do Cliente: Estudo dos Clientes do Banco de Poupança e Crédito – Luanda (Angola)
Author: CEsA Communications (comunicacao@cesa.iseg.ulisboa.pt)
Images: CEsA/Reproduction