Seminar "Global Governance in Hard Times: The case of regional development banks" will take place on November 9th, 2022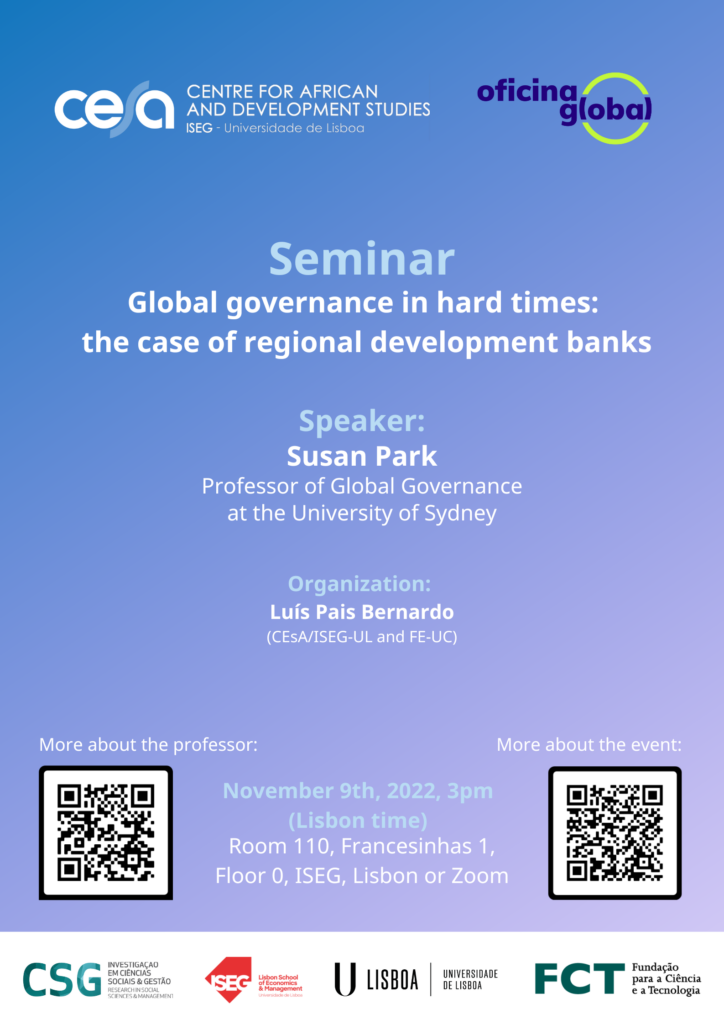 The Centre for African and Development Studies (CEsA/CSG/ISEG/ULisboa) invites all interested parties to attend the seminar "Global Governance in Hard Times: The case of regional development banks" with Susan Park, Professor of Global Governance at the University of Sydney, in November 9th, 2022, at 3pm, in person at Room 110 (Francesinhas 1), ISEG – Lisbon School of Economics and Management or via Zoom, with free entrance.
Susan Park has devoted her research to the articulation of informal norms in international organisations, transnational environmental governance and regional development banks. Her research has focused on Multilateral Development Banks (MDBs), including the World Bank, World Bank Group and African, Asian, Inter-American Development Banks and the European Bank for Reconstruction and Development. Her latest book, "The Good Hegemon: US Power, Accountability as Justice, and the Multilateral Development Banks", discusses the accountability norm and US influence on multilateral development banks.
To learn more about the author, click here.
The seminar will start from the premise that regional development banks are economic actors often ignored or downplayed in studies on international development governance. With the challenges created by pandemic and war, it becomes urgent to revisit these organisations.
The event is organised by Luís Pais Bernardo, researcher at CEsA/CSG/ISEG/ULisboa and visiting assistant professor at FE-UC.
Zoom access: click here.
Author: CEsA Communication Team (comunicacao@cesa.iseg.ulisboa.pt)
Image: CEsA/Reproduction