PhD students in Development Studies and CEsA researchers improve writing good practices in a healthy academic writing retreat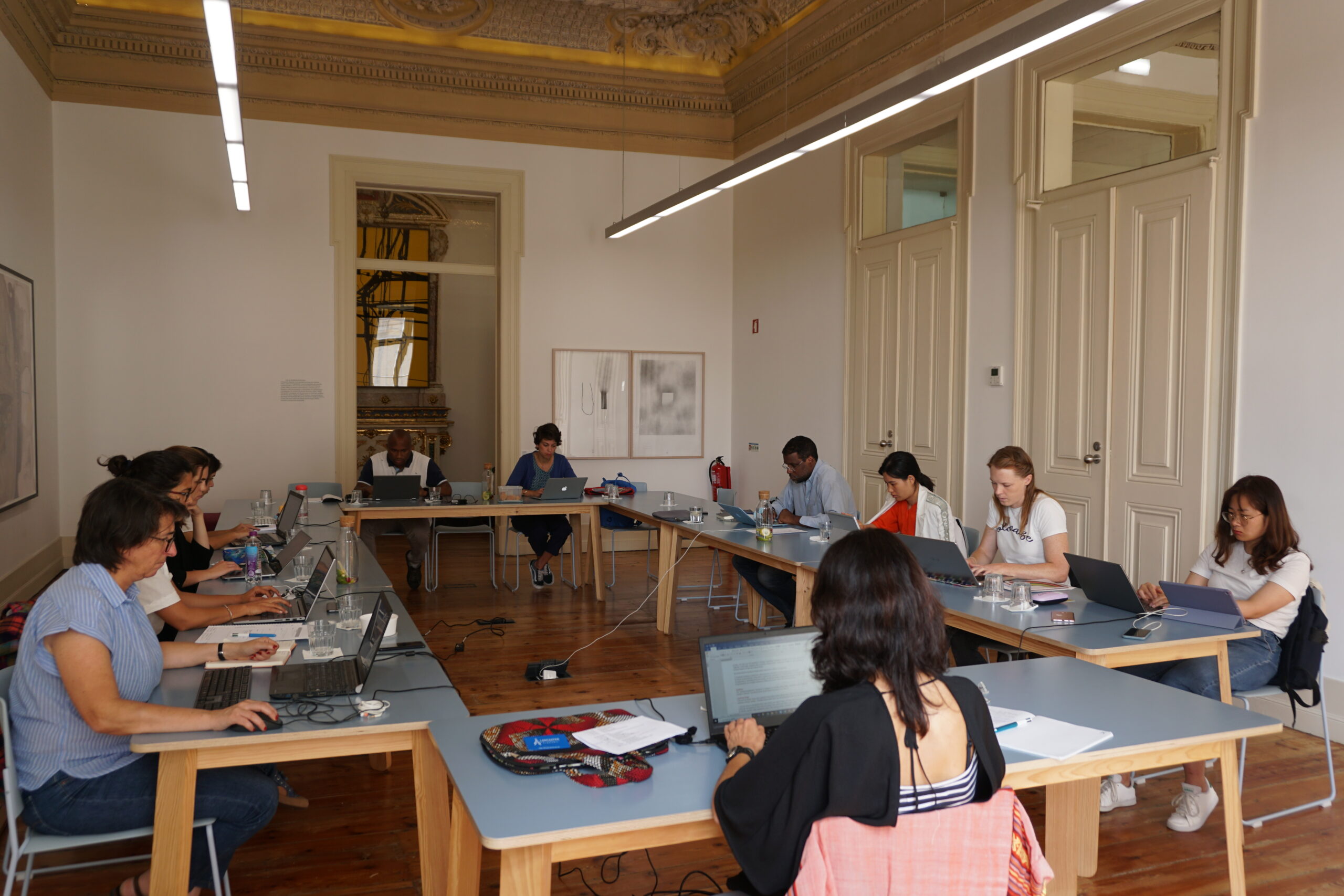 PhD students from the Program in Development Studies (PDED) (ISEG/ICS/IGOT/ISA) and CEsA and ISEG researchers gathered on June 22 and 23, 2022 for the Healthy Academic Writing Retreat. The workshop was facilitated by Dr Joana Pais Zózimo (Lancaster University Management School) at Brotéria and was supported by CEsA.
The two days of intense learning were dedicated to the Structured Writing Retreat (SWR) methodology, developed by Professor Rowena Murray (University of the West of Scotland), and brought to Portugal by Dr Joana Pais Zózimo. This method provides the time, space and structure necessary for participants to progress on projects of academic writing, and to which Joana added the health and wellness aspect.
Joana Pais Zózimo explains that the differential of the SWR is the healthy and joyful approach, a distraction-free and supportive writing space. "The ample, focused writing time is supported by movement and meal breaks and opportunities to discuss your writing with the community of writers," says Zózimo. Some specific learning outcomes were: improving attitude towards writing practice, increasing confidence in tackling academic challenges and reinterpreting significant amounts of writing to produce realistic outcomes (goal setting), decreasing stress and anxiety levels, and providing advanced outlook into their academic achievements (by replicating the method), in addition to establishing strong collaborative connections within the writer's group and across other peers/faculties.
Healthy Academic Writing Retreat Testimonials
Silvia Amaral, 2nd year PhD student in Development Studies (ISEG/ICS/IGOT/ISA)
The healthy Academic Writing Retreat was a new experience for me. It was the first time that i joined a group to write, and to write in a structured way. Although i have a strong self discipline for work, i have learnt how to do it in a more healthy, and therefore effective, way. The structured slots of 60 minutes uninterrupted writing went by really fast. It is, simoultaneously, long enough to get a good flow of writing, but not too long to get tired or bored. And if you raise your head above your work, you will see your colleagues focused working and that will give you extra motivation to continue. The 20 minutes breaks in between the writing slots help to rest the brain and relax the spirit, with the opportunity to chat with the colleagues about the work or any other topic.

The place where the workshop took place – an historical building in the centre of Lisboa – also contributed to its sucess. We work better in a nice place with lots of natural ligtht, good ventilation, surrounded by beautiful decoration and in good company of motivated collegues. Overall it was a very good experience, also thanks to the calm and organized leading of the convenor, and it had a very positive impact in my production, not only during those two days but also for the way i will organize my work from now on. Thanks CEsA for organizing this!
Cosmas A. BA-ANA-ITENEBE, 2nd year PhD student in Development Studies (ISEG/ICS/IGOT/ISA)
I found the writing retreat to be very enriching and focus driven. The methodology was quite unique and innovative, that it really gets you to focus and write. The fact that you are also in company of others that are also focused on writing really propels you to write and get engaged. The short breaks and healthy snacking was truly amazing. I also think the venue chosen for the retreat was great. The fact that other people come there to study added more flavor to the retreat and got you into the study mode. The fact that facilitator was not just a facilitator but also participated in the writing as well as sharing her experience was unique and amazing.

However, for me, I thought I would be learning how to actually write and not just coming to write. I think the facilitators and organizers need to help participants prepare in advance such as doing some initial research on what ever they would be writing about than just arrive and then write. 
Xin Su, 1st year PhD student in Development Studies (ISEG/ICS/IGOT/ISA)
At the Healthy Academic Workshop we wrote together, set concrete writing goals, and devote ourselves to writing, which has helped me a lot. The atmosphere of the workshop is also very relaxed and pleasant, and the professor is very kind and took care of each student's progress. It was also a very enjoyable experience to talk with my classmates between writing sessions and at lunch.
Joana Pais Zózimo's tips for a healthy academic writing
Writing goals:
Have a clear idea of the writing project you want to work on.
Outline a basic plan (perhaps draft an end goal/outcome) for the planned writing sessions; if you're not sure what you want to achieve, spend about 20-30 minutes doing some free writing or mind mapping.
Complete relevant reading and make notes.
Download all necessary materials to your computer to avoid unnecessary visits to the internet.
Welness goals:
Do what you can to secure a comfortable and distraction-free environment:

Make sure others know when you're busy and when you're on breaks.
Plan/have nutritious and nourishing healthy light snacks and drinks so you can enjoy them during the retreat. Avoid food that is too heavy, rich, or sweet.

There is a snack back at the venue where you can buy coffee, tea and food.
For further information, please contact: zozimojoana@gmail.com (email), 962392825 or +447578609287 (Whatsapp).
Author and images: CEsA Communications team (comunicacao@cesa.iseg.ulisboa.pt)