CEsA Working Paper 187/2022 explores the resilience of fragile states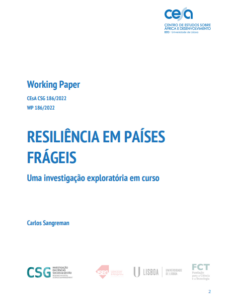 CEsA has published the Working Paper "Resiliência em Países Frágeis: uma investigação exploratória em curso" (n. 187/2022), authored by Carlos Sangreman with Deolinda Martins, Christophe Quétel, Alexandre Abreu and Guy Bourdin.
The publication explores resilience in Guinea-Bissau based on the study "Context specific risk perception and resilience patterns for individuals and communities (urban/non-urban) – the case of people in Guinea-Bissau", which applied a survey whose form is present in this Working Paper. This study resulted in an article published in an international journal and a PhD study in progress at the University of Aveiro.
Click here to download the Working Paper n. 187/2022: https://www.repository.utl.pt/handle/10400.5/26355
Author: CEsA Communication (comunicacao@cesa.iseg.ulisboa.pt)
Image: CEsA/Reproduction