Conversation "Territórios da Memória"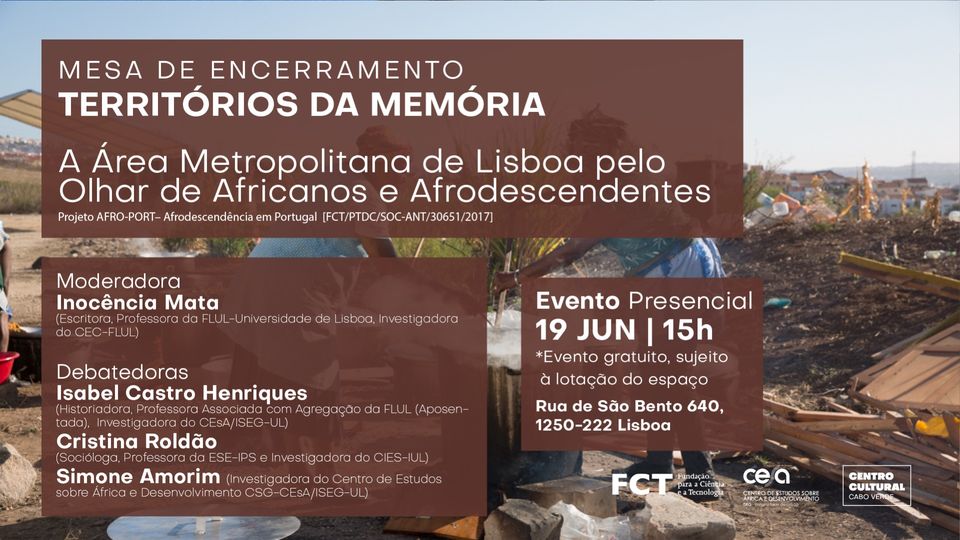 Territórios da Memória, a conversation between Isabel Castro Henriques, Cristina Roldão and Simone Amorim, with moderation by Inocência Mata, at Centro Cultural Cabo Verde, Saturday, dia 19, at 3:00 pm.
The CCCV – Centro Cultural de Cabo Verde and AFROPORT – Afrodescendência em Portugal present, from October 19 to November 27, TERRITÓRIOS DA MEMÓRIA (LANDS OF MEMORY), an audiovisual exhibition that shows for the first time to the public the records collected within the research projects AFROPORT -Afrodescendência em Portugal: sociabilities, representations and socio-political and cultural dynamics. A study in the Lisbon Metropolitan Area (Centre for African and Development Studies/ISEG) and DISCURSOS MEMORIALISTS OF HISTORY (Centre for Comparative Studies/FLUL), in addition to Herberto Smith's photographs of the São Miguel Arcanjo Festival in the Casal da Mira neighbourhood.
The projects collected, from the horizontal dialogue with the participants, numerous videographic records of the ways of life, sociabilities and discursive practices in various urban latitudes of Africans and Afro-descendants in the Lisbon Metropolitan Area, and the memories of political actors in the historical processes in the Portuguese-speaking African countries, during the colonial and post-colonial periods. From this collection, an audiovisual collection was organised, which will now be available to the public, as a result of a close partnership – to be continued and expanded – with the Centro Cultural de Cabo Verde.
The conversation takes place within the scope of the AFROPORT project, coordinated by Professor Iolanda Évora, hosted by CESA – Centre African and Development Studies at ISEG.
The event will be broadcast online from CCCV.PT (Facebook).