CEsA Presents: CEsA Thinks 2022/2023 – Seminars | October 13th, 2022 to February 8th, 2023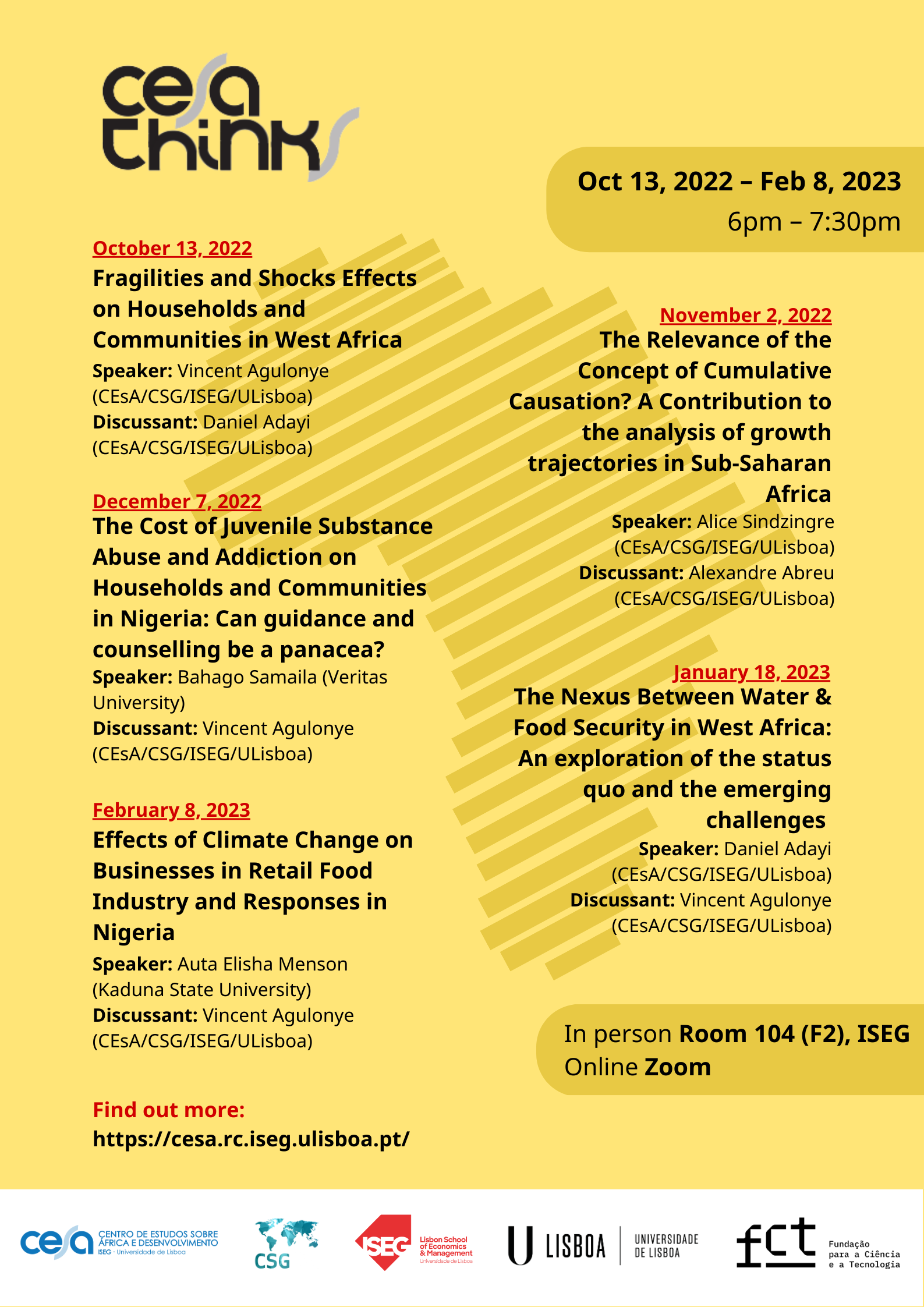 The Centre for African and Development Studies (CEsA/CSG/ISEG/ULisboa) and the ISEG – Lisbon School of Economics and Management, of the University of Lisbon (ULisboa), invite to the CEsA Thinks 2022/2023 – Seminars. The presentations aim to promote peer discussions on current research conducted by researchers in the field of Development, with the aim of generating contributions and criticism of the works presented.
The events will take place from October 13th, 2022 to February 8th, 2023, one Wednesday a month (from November 2nd), from 6pm to 7:30pm (Lisbon time). The meetings will take place in a hybrid format (in person at ISEG – Room 104, Francesinhas 2, and online via Zoom) and will be open to the public. See the full program in the poster.
Organized by the CEsA researchers Vincent Agulonye and Daniel Adayi, the CEsA Thinks 2022 presentations are in English.
CEsA Thinks 2022/2023
From October 13th, 2022 to February 8th, 2023, monthly, from 6pm to 7:30pm (Lisbon time).
Hybrid format: face-to-face in Room 104 (Francesinhas 2, ISEG, Lisbon), with online broadcast via Zoom (https://us06web.zoom.us/j/87919779125?pwd=cmtENi9lVWxRNjBCdHhXaDdCZ0lHUT09).
More about the organizers:
Vincent Agulonye:
Since 2006, Vincent has worked in the private sector in Nigeria. He started in the education sector in 2006 where he served as an English teacher at St. Mary's College, Suleja, Niger State. He was Head of the English and Literature Department, Coordinator of the Press Club, Literary Club, Quiz and Debate Competition, and Editor of the School Magazine. He was a Student Journalist from 2004 to 2006 (where he served in various capacities, including Board Secretary, Assistant Editor and Editor-in-Chief). He served as an English language teacher during his national service in the far northeastern city of Nigeria, Maiduguri. He started working in the telecommunications industry soon after his national assignment in 2009. He worked for the largest private telecommunications company in Nigeria, MTN Nigeria in Kaduna and Kano. In 2010, he enrolled in graduate education at the National Teachers Institute and Usmanu DanFodiyo University, graduate program in Sokoto. In 2011, he enrolled in the Graduate Program in Mass Communication at Bayero University in Kano. After that, he pursued a PhD in Development Studies at ISEG, University of Lisbon. At the moment, he is involved in studying development trends in Nigeria's private sector (especially in the manufacturing industry) in Anambra.
Daniel Adayi:
Daniel Adayi, PhD, is a Catholic missionary priest and a researcher with the Centre for African and Development Studies (CEsA/CSG/ISEG/ULisboa). He obtained his doctorate in Development Studies from ISEG in 2019 for research on the political economy of River Basin Development Authorities in Nigeria. His current research focuses on the interplay of institutions in food and water resources management in emerging economies. With an academic background in Philosophy, Environmental Engineering Chemistry and Sacred Sciences, Adayi employs interdisciplinary and multidisciplinary methodological tools for his analyses. He lives in London and is the Parish Priest of Saints Michael and Matin Church, Hounslow, in the West of London.
Author: CEsA Communication (comunicacao@cesa.iseg.ulisboa.pt)
Image: CEsA/Reproduction