Carlos Sangreman/CEsA assina o relatório Observando Direitos na Guiné-Bissau em coautoria com Bubacar Turé/LGDH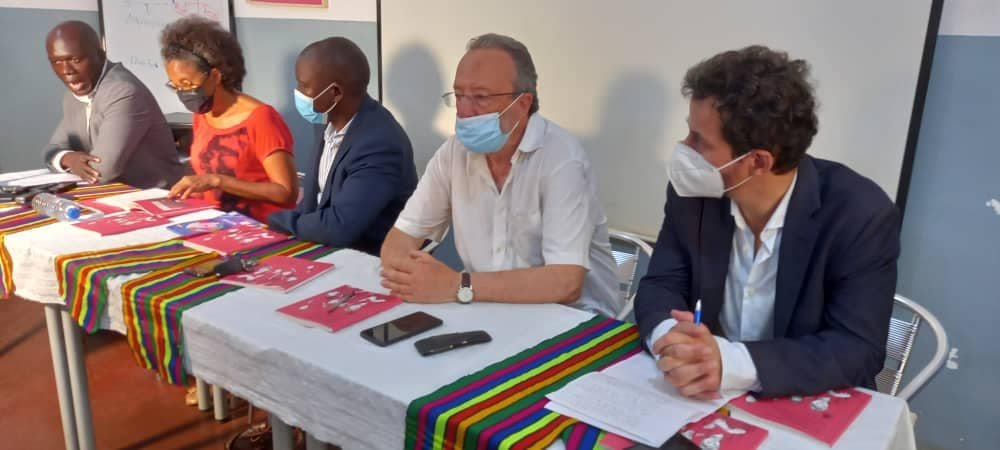 O investigador do CEsA Carlos Sangreman assina o relatório "Observando Direitos na Guiné-Bissau: Covid-19 e Direitos Humanos", em coautoria com Bubacar Turé. A publicação resulta de uma audição pública realizada na Quinzena dos Direitos da Guiné-Bissau, na Casa dos Direitos da Guiné-Bissau, em que foram auscultados vários representantes da sociedade guineense, sobre o impacto da pandemia na situação dos direitos humanos. É financiada pelo Camões I.P e tem o apoio do CEsA, da Liga Guineense dos Direitos Humanos (LGDH) e da Associação para a Cooperação entre os Povos (ACEP).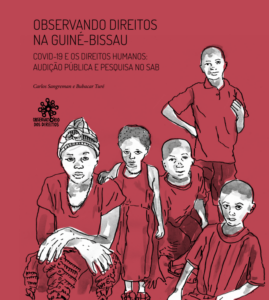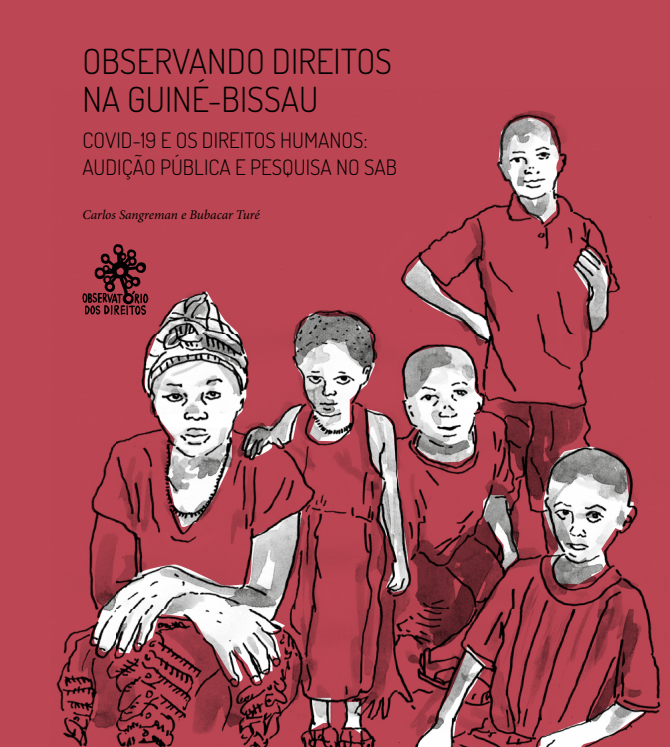 O relatório foi apresentado no dia 16 de junho, numa sessão pública que contou com a participação dos autores do livro, do adido da Cooperação da Embaixada de Portugal junto da Guiné-Bissau, António Nunes, do presidente da Liga Guineense dos Direitos Humanos, Augusto Mário, e da coordenadora do Miguilan – Mindjer di guiné nô Lanta, Isabel Almeida. Na ocasião, foi também inaugurada uma exposição com depoimentos de representantes de vários sectores da sociedade.
Clica aqui para fazer download
Mais sobre Carlos Sangreman:
PhD (2003) in African Interdisciplinary Studies in Social Sciences, with the theme "The structural adjustment policies and the well-being of the urban families in the city of Bissau, 1986 – 1994 – 1998 – 2001", at the Instituto Superior de Ciências do Trabalho e Empresa (ISCTE). Course on Computer Science in Statistics at the National Institute of Administration of Lisbon (1985). Degree in Economics at the same University (1975/79). Bachelor's Degree in Economics at ISEG/ULisboa (1968).
From 2014 to the present, is lecturer/coordinator of Introduction to International Cooperation for Development (University of Aveiro and Camões Institute.
He held, from 2010 to 2014, the position of General Coordinator Professor for International Cooperation for Development at the University of Aveiro. He was an international consultant from 1985 to the present, with assignments throughout the PALOP and Timor-Leste for International Organizations such as the World Bank, UNDP, IOM and the European Union in countries such as Portugal, Sweden, Switzerland, Cape Verde and Guinea-Bissau. Between 1986 and 1987, he was adviser for statistics to the Minister of Planning of Guinea-Bissau; between 1998 and 2003 he was adviser to the Minister of Solidarity and Social Security for the organization of the Department of Cooperation for Development; and between 2008 and 2012, he was adviser to the Secretary of State for Foreign Affairs and Cooperation, to promote the Civil Society Forum for Cooperation for Development.
Researcher responsible for projects with public and private funding, national and international. Among which are: "Memória de África e do Oriente" (UA and CEsA/CSG/ISEG/ULisboa); "O cluster como instrumento teórico e prático da Cooperação Internacional para o Desenvolvimento portuguesa: o caso de Moçambique, Timor-Leste, São Tomé e Príncipe e Angola; "Os Direitos Humanos e a pandemia de covid-19 na Guiné-Bissau", etc.
Autor: Comunicação CEsA (comunicacao@cesa.iseg.ulisboa.pt) com informações da Associação para a Cooperação entre os Povos (ACEP)
Imagem: ACEP/Reprodução