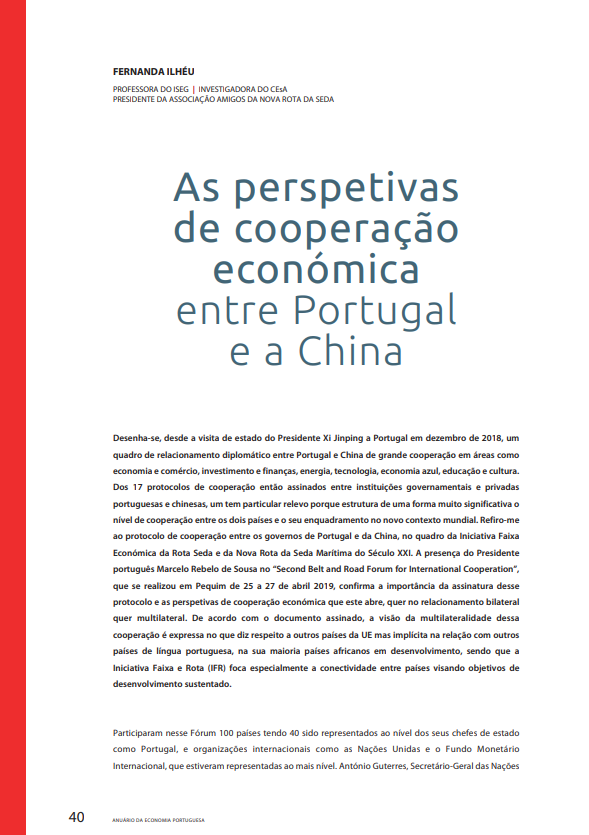 Abstract:
As Perspetivas de Cooperação Económica entre Portugal e a China exposes how Since the state visit of President Xi Jinping to Portugal in December 2018, a framework for diplomatic relations between Portugal and China has been established, with a high level of cooperation in areas such as economy and trade, investment and finance, energy, technology, blue economy, education and culture. Of the 17 cooperation protocols signed then between Portuguese and Chinese governmental and private institutions, one is of particular relevance because it structures in a very significant way the level of cooperation between the two countries and its framework in the new global context. I am referring to the cooperation protocol between the governments of Portugal and China, within the framework of the Silk Road Economic Belt Initiative and the New 21st Century Maritime Silk Road. The presence of Portuguese President Marcelo Rebelo de Sousa at the "Second Belt and Road Forum for International Cooperation", which was held in Beijing from 25 to 27 April 2019, confirms the importance of the signing of this protocol and the prospects for economic cooperation that it opens, both in bilateral and multilateral relations. According to the signed document, the vision of the multilaterality of this cooperation is expressed with regard to other EU countries but implicit in the relationship with other Portuguese-speaking countries, mostly African developing countries, with the Belt and Road Initiative (IFR) focusing especially on connectivity between countries aimed at sustainable development objectives.
Quotation:
Fernanda Ilhéu (2019), As Perspetivas de Cooperação Económica entre Portugal e a China. O Economista-Anuário da Economia Portuguesa, 32ª Edição, Ordem dos Economistas, ISBN 1646-9909, pp:40-45, Lisboa.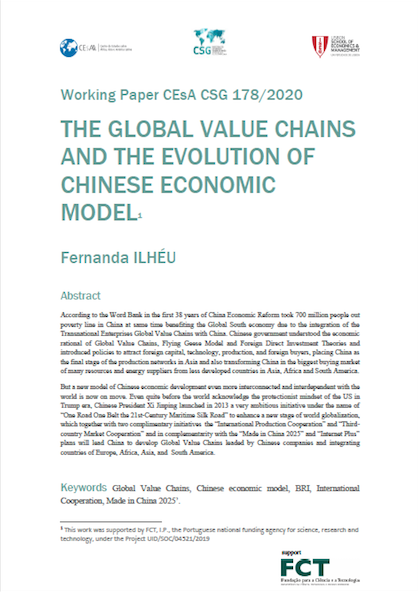 Abstract:
According to the Word Bank in the first 38 years of China Economic Reform took 700 million people out poverty line in China at same time benefiting the Global South economy due to the integration of the Transnational Enterprises Global Value Chains with China. Chinese government understood the economic rational of Global Value Chains, Flying Geese Model and Foreign Direct Investment Theories and introduced policies to attract foreign capital, technology, production, and foreign buyers, placing China as the final stage of the production networks in Asia and also transforming China in the biggest buying market of many resources and energy suppliers from less developed countries in Asia, Africa and South America. But a new model of Chinese economic development even more interconnected and interdependent with the world is now on move. Even quite before the world acknowledge the protectionist mindset of the US in Trump era, Chinese President Xi Jinping launched in 2013 a very ambitious initiative under the name of "One Road One Belt the 21st-Century Maritime Silk Road" to enhance a new stage of world globalization, which together with two complimentary initiatives the "International Production Cooperation" and "Third-country Market Cooperation" and in complementarity with the "Made in China 2025" and "Internet Plus" plans will lead China to develop Global Value Chains leaded by Chinese companies and integrating countries of Europe, Africa, Asia, and South America, studied in The Global Value Chains and the Evolution of Chinese Economic Model.
Quotation:
Ilhéu, Fernanda (2020). "The global value chains and the evolution of chinese economic model". Instituto Superior de Economia e Gestão – CEsA/ CSG Documentos de Trabalho nº 178/2020.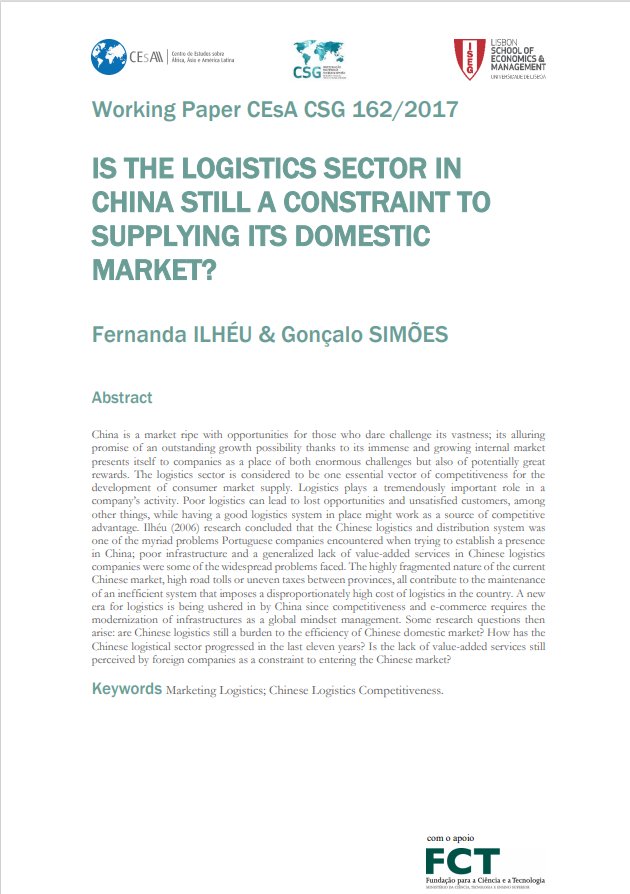 Abstract:
China is a market ripe with opportunities for those who dare challenge its vastness; its alluring promise of an outstanding growth possibility thanks to its immense and growing internal market presents itself to companies as a place of both enormous challenges but also of potentially great rewards. The logistics sector is considered to be one essential vector of competitiveness for the development of consumer market supply. Logistics plays a tremendously important role in a company's activity. Poor logistics can lead to lost opportunities and unsatisfied customers, among other things, while having a good logistics system in place might work as a source of competitive advantage. In Is the Logistics Sector in China Still a Constraint to Supplying its Domestic Market? we continue the Ilhéu (2006) research that concluded that the Chinese logistics and distribution system was one of the myriad problems Portuguese companies encountered when trying to establish a presence in China; poor infrastructure and a generalized lack of value-added services in Chinese logistics companies were some of the widespread problems faced. The highly fragmented nature of the current Chinese market, high road tolls or uneven taxes between provinces, all contribute to the maintenance of an inefficient system that imposes a disproportionately high cost of logistics in the country. A new era for logistics is being ushered in by China since competitiveness and e-commerce requires the modernization of infrastructures as a global mindset management. Some research questions then arise: are Chinese logistics still a burden to the efficiency of Chinese domestic market? How has the Chinese logistical sector progressed in the last eleven years? Is the lack of value-added services still perceived by foreign companies as a constraint to entering the Chinese market?
Quotation:
Ilhéu, Fernanda e Gonçalo Simões (2017). "Is the Logistics Sector in China Still a Constraint to Supplying its Domestic Market?". Instituto Superior de Economia e Gestão – CEsA/ CSG – Documentos de Trabalho nº 162/2017