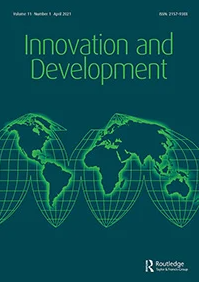 Abstract:
In the past twenty years, innovation has slowly, but steadily, become an important presence in development cooperation discourse and practice. The ambitious UN 2030 Sustainable Development Agenda has accelerated this trend, providing a strong framework for the main argument in favour of an innovation agenda for international development: without new ideas and innovative solutions, solving the current global development challenges will not be possible. Although this innovation-push is in line with a wider predominant view of innovation as an inherently positive force of progress, that alone does not explain when, how, and why innovation becomes a key topic in the field. This article seeks to fill this gap in the literature, providing an initial overview of innovation in development cooperation in the post-2000s. It argues, firstly, that innovation has always been part of international development policy and practice. Secondly, it links the recent strengthening of the innovation discourse to three trends in the systemic transformation of the field: the triumph of metrics-based agendas, the ICTs and digitalization revolutions, and the role of private sector actors. It concludes by critically assessing the implications of this narrative in changing the politics of innovation towards more inclusive sustainable development policies and practices.
Quotation:
Ana Luísa Silva (2021) Innovation in development cooperation: emerging trajectories and implications for inclusive sustainable development in the 21st century, Innovation and Development, 11:1, 151-171, DOI: 10.1080/2157930X.2020.1807100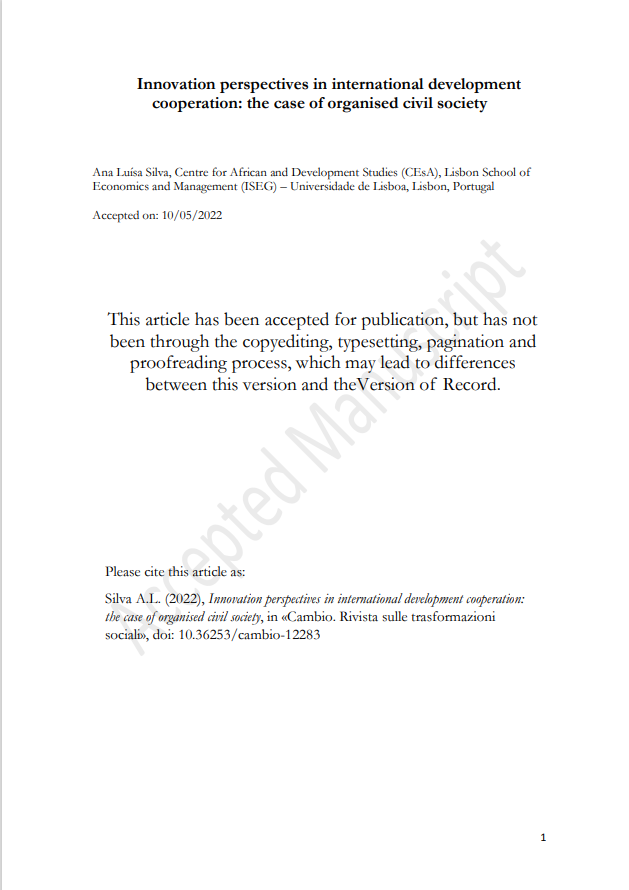 Abstract:
Non-governmental organisations (NGOs) are still in the side-lines of the emerging literature on innovation in international development cooperation, although the topic has been gaining prominence since the 2000s, accompanying the wider transformation of the development cooperation field. Innovation perspectives in international development cooperation: the case of organised civil society presents the results of a mixed methods research that involved a broad geographic sample of 20 NGO national co-ordinating bodies through an online survey and semi-structured interviews. The goal was to map and analyse innovation perspectives, motivations, and practices in these organisations, understand their relationship with mainstream views of innovation in the field and uncover their potential to promote inclusive innovation. Results suggest that these actors have potential to promote inclusive innovation practices in the field, since they approach innovation with social change as an end goal, as opposed to having an overly solutionist and problem-solving view of social innovation. The paper also highlights the key role of information and communications technologies, as well as digital tools, as both a reason to innovate and enablers of innovation in these organisations. Finally, the conclusion leaves questions open for further research on innovation in development NGOs.
Quotation:
Silva, A. L. (2022). Innovation perspectives in international development cooperation: the case of organised civil society. Cambio. Rivista Sulle Trasformazioni Sociali. https://doi.org/10.36253/cambio-12283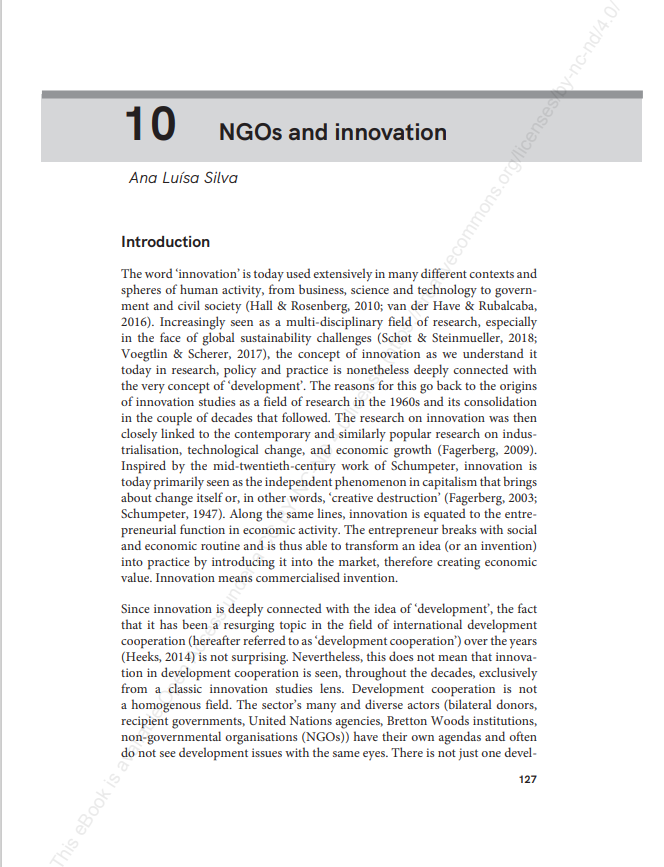 Abstract:
Over the past twenty years, and against the backdrop of a profound transformation in the international development cooperation sector, innovation has resurged as a 'hot' topic in the field. In the same period, development non-governmental organisations (NGOs) face growing challenges of legitimacy, accountability, and dependence on government funding. Their role as precursors of alternative development models, natural social innovators, and catalysts of international solidarity movements is increasingly being questioned. These challenges have been further exacerbated by the Covid-19 pandemic. Existing research on development NGO innovation focuses, like most classic innovation research in other fields, on studying specific, usually successful, innovations; leaving many questions unanswered on topics like innovation failure, processes, culture, funding, motivations, as well as the role of NGOs in innovation for development. This chapter, NGOs and Innovation, by Ana Luísa Silva, gives an overview of the state of the art on development NGOs and innovation, identifying areas that are open for further research. This article is inserted in A Research Agenda for Civil Society, a book by Kees Biekart and Alan Fowler.
Quotation:
Silva, A. L. (2022). NGOs and Innovation. In K. Biekart & A. Fowler (Ed.), A Research Agenda for Civil Society (pp. 127-142). Elgar Research Agendas. Edward Elgar. ISBN: 978 1 80037 814 8