The workings and challenges of development finance institutions: the case of the Deutsche Investitions – und Entwicklungsgesellschaft (DEG)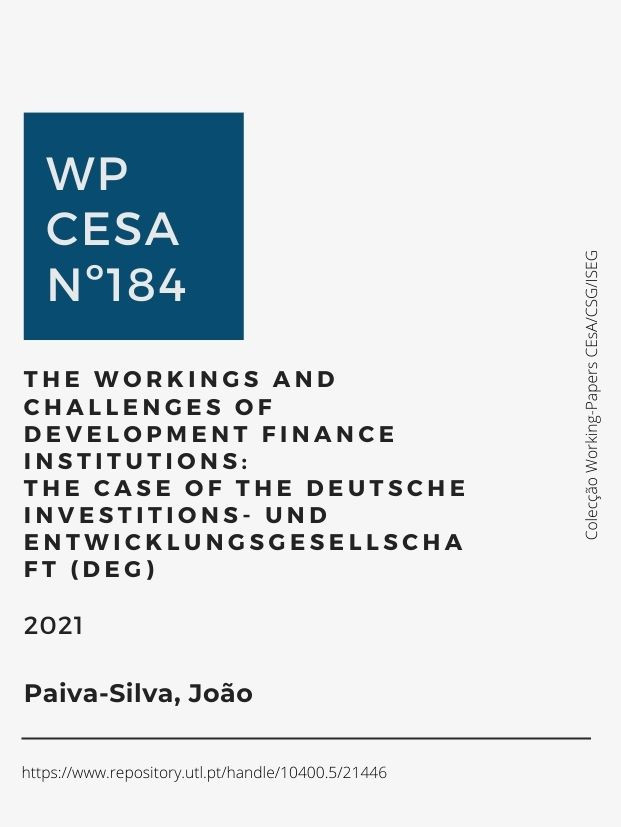 Título: The workings and challenges of development finance institutions: the case of the Deutsche Investitions - und Entwicklungsgesellschaft (DEG)
Autor(es): Paiva-Silva, João
Data de Publicação: 2021
Editora: Centro de Estudos sobre África e Desenvolvimento/ISEG (RCAAP)
Citação: Paiva-Silva, João (2021). "The workings and challenges of development finance institutions: the case of the Deutsche Investitions- und Entwicklungsgesellschaft (DEG)". Instituto Superior de Economia e Gestão – CEsA/CSG Documentos de Trabalho nº 184-2021
Resumo: This article examines the workings of DEG - the German development finance institution – focusing on how this institution balances (and has historically balanced) its financial, developmental, and geopolitical/geoeconomics mandates. Drawing from interviews with DEG's stakeholders, experts and an analysis of grey literature, it is found that, although DEG prioritizes its financial sustainability, it has generated significant developmental impact and even become more development-oriented over the last two decades. At the same time, DEG faces serious challenges regarding its public legitimacy, as well as concerning its ability to attract private investors and uphold Environmental, Social and Governance (ESG) standards in low-income settings, putting in question its mode of operation. These difficulties – which are also akin to some difficulties facing private-sector-led/market-centered development assistance - emerge mainly from a mismatch of interests and expectations of various stakeholders, most importantly (i) the challenges of combining the public demands of transparency with the requirements of private business confidentiality and (ii) the limitations of business in improving standards when an appropriate regulatory and physical infrastructure is lacking. It is further argued that, given the principles underpinning the activities of DFIs, as illustrated by the case of DEG, ameliorating these challenges necessarily requires trade-offs regarding financial, reputational and ESG demands of the different actors considered.
Identificador: http://hdl.handle.net/10400.5/21446
Categoria: Working paper
O working paper CESA/CSG-ISEG nº 184, de autoria de João Paiva-Silva, examina o funcionamento do DEG – a instituição financeira para o desenvolvimento alemã – com foco em como essa instituição equilibra (e historicamente equilibrou) seus mandatos financeiros, de desenvolvimento e geopolítico/geoeconomia.